Our Sailing Epiphany
We're a family of boat builders and sailors. Our mission is to improve the state-of-the-art of hurricane science and prediction, and provide island and coastal communities everywhere with affordable water transportation.
When oil hits $250/barrel, the whole world will need sailing ships. We think that's a matter of when, not if. Someone needs to start doing something now.
So we are. We're designing and building sustainable carbon-negative boats built from renewables that run on no fuel, but use wind instead, from our 18 foot long Hurricane Hunter robot research sailboat up to 180 foot long inter-island cargo and passenger carriers.
(Below) The 18-foot long Pocket Rocket, our first autonomous vessel prototype for The Hurricane Hunter, on her first sea trial. Videos here. A simplified and affordable version of the Pocket Rocket is perfect for artisanal fishing inside lagoons and short trips to sea during good weather conditions.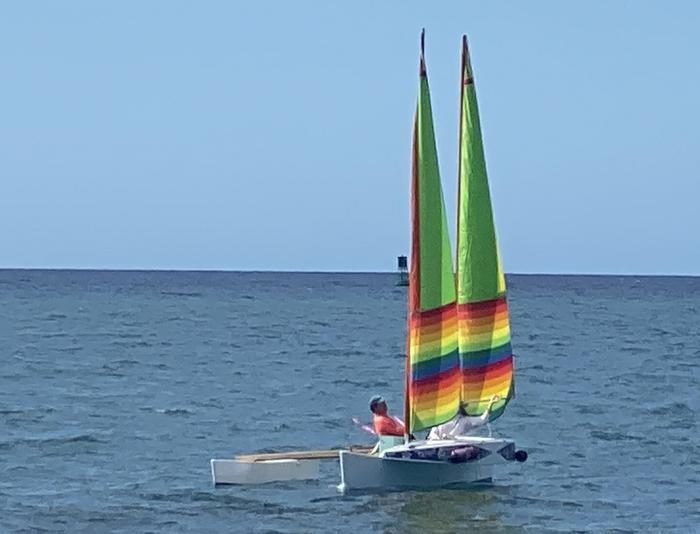 We are also producing a series of sailing vessels ranging from 24 to 180 feet in length that will haul passengers and refrigerated cargo for small coastal and island communities worldwide.
These boats will all utilize the robotic systems and collision-avoidance technologies we are developing, because doing so will reduce the number of crew needed to operate them, and make the vessels themselves much safer, both for crew and passengers.
The robotics assist means that the 24-foot Island Taxi can be completely autonomous, the 38 to 45-foot  Island Bus will only need a single crewman, the 90-foot Market Transport only 3 crew, and the 180-foot Island Carrier only 5 crew. The anti-collision suite means these boats will be able to sail safely, at maximum attainable speed, without worrying about the safety of the people on board.

The first of these passenger and cargo haulers is our 24-foot Coconut, a prototype for "The Island Taxi", a sailing taxi that will serve island and coastal subsistence communities the world over, without needing gas or diesel.
(Below) Now our first Island Taxi, Coconut, is real; 185 pieces of shaped wood, some fiberglass, some epoxy resin and paint. Simple, huh?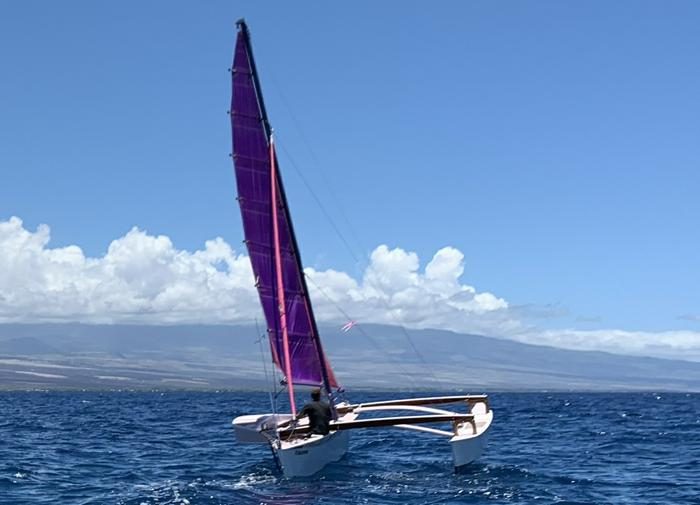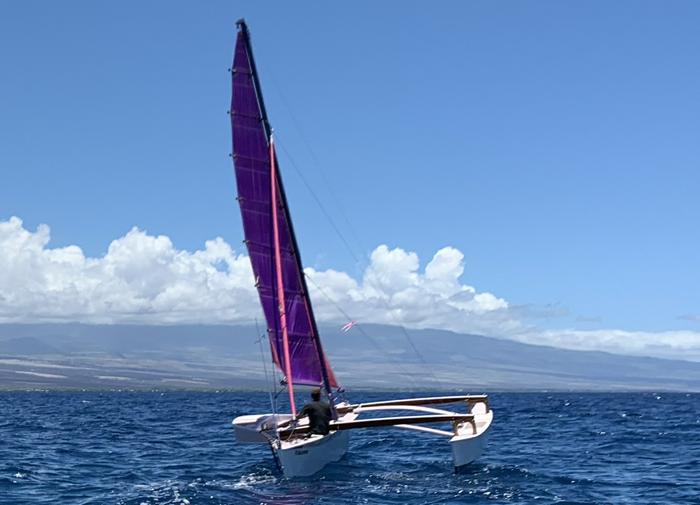 The second is Lata, the 38-foot sailing bus/cargo hauler we built for the people of Taumako Island in the Solomon Islands; it is the prototype for what we call "The Island Bus"; capable of hauling 24 or more people plus cargo.
(Below) Our first 38-foot Island Bus, Lata, finished and in the water.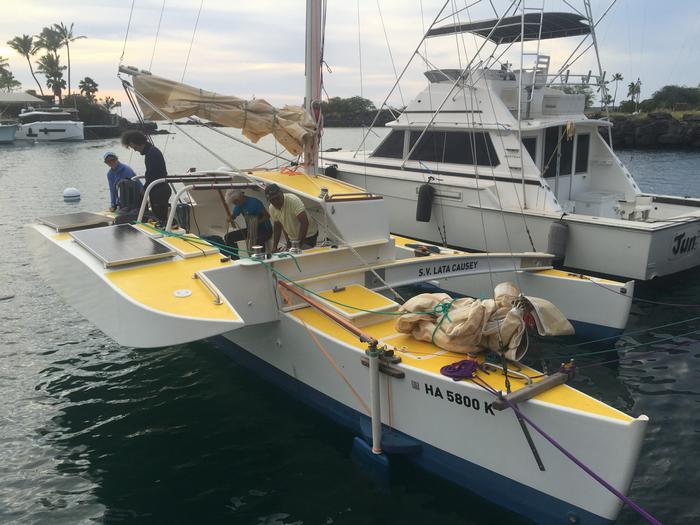 (Below) The first Lagoon Bus catamaran that we built in the Marshall Islands in 1987; it is the forerunner of our current Island Buses, the first of which is Lata, pictured above in the water in Kona, Hawaii. There are as many people inside the cabin as you see outside; in fact, we had a believable report once of 130 people on an inter-island trip in Kiribati, where this boat was in service.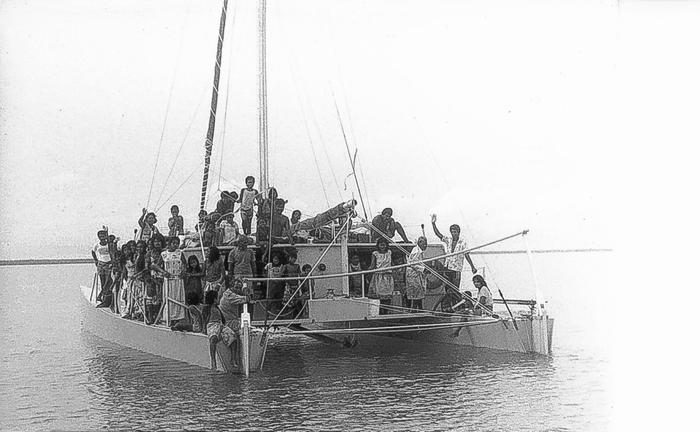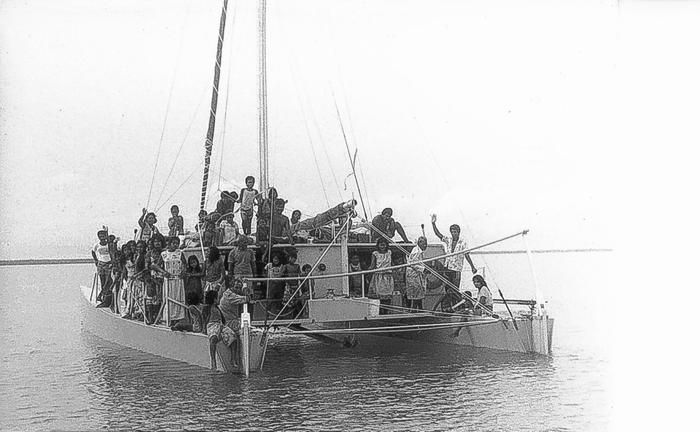 We have a vision of a better world, in which island and coastal communities are connected with a network of sustainable, small-to-large carbon-negative sailing vessels that carry cargo, passengers, and refrigerated produce.

These communities are currently under-served (read "poor"), and lack the skills, funding, and resources necessary to pull this sort of project off by themselves. So, what's first? Train people to build boats first, then ships.
We train them how to sail the vessels, then use them profitably to make a living. The goal is to make sure they're truly "sustainable", that is, financially self-supporting. When we get to that point, they will be funding this sort of project by themselves, and also teaching others how to do so. That's our real goal.

We're using a special kind of vessel called an Oceanic Proa.

(Below) They look like this: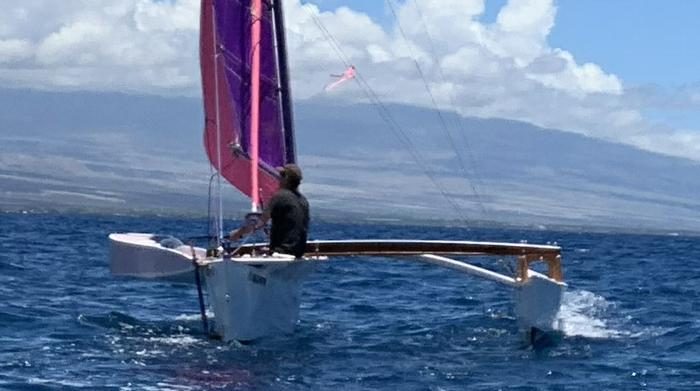 We didn't invent them. According to anthropologists, this was the kind of craft people started out from Malaysia in 4,000 years ago to settle the Pacific Basin. Four thousand years is a long time, and that's a LOT of ocean and islands to traverse, and a lot of canoes to build and sail.
Along the way, the original mariners from Malaysia settled in their new home islands, and became Tongans, Fijians, Micronesians, Samoans, Tahitians, Marquesans, Cook Islanders, and Hawaiians (we are fortunate to live on the Big Island of Hawaii). In their new homes, they each built their own distinctive styles of canoes that were best suited to local weather and sea conditions, and that could be built using locally available materials.
One thing these ancestor canoes all had in common was that they were built with Stone Age technology: the tree trunks and boards they were constructed from were hewn out using stone adzes and other stone cutting and scraping tools. The builders used sharkskin for sandpaper to make the canoes smooth, breadfruit sap to calk seams to make them waterproof, woven pandanus leaves for sails, and coconut midrib fibers for rope and fishing lines. In modern terms, these canoes were held together with string and chewing gum.
These ancient people didn't have epoxy resin and fiberglass, aluminum for masts, dacron for ropes and sailcloth. They were, and still are, the world's most skilled and daring seafarers and navigators. They were making thousand-mile voyages offshore in canoes held together by coconut string and sap, when my ancestors thought they'd fall off the edge of the world if they went too far.
We have modern materials, and we take full advantage of their strengths, light weight, and durability in designing and building our vessels.

To see our 24-footer Coconut just sailing along, watch this:
Proas are perfect for these projects for a number of reasons:
They're fast; they can make two trips in the time it takes a Western-style sailboat to make one.
They're shallow draft; means even large ones can pull right up to the beach on isolated outer islands to load and unload passengers and cargo. They don't need piers to unload or load, this means it's cheaper to run them, and they can service more diverse locations.
They're unsinkable because they're built with materials that weigh less than water. An entire 38-foot boat, even including the metal in its engine, mast, and fittings, will still float even if you rip the bottoms out of both hulls. And of course they have numerous watertight compartments too, to satisfy US Coast Guard and insurance company requirements.
They sail FLAT without heeling over; this means they're very comfortable for the passengers.
They are built with special wood-epoxy-fiberglass composites that are 90% sustainable, renewable, carbon-negative materials. They are truly green vessels.
It's practically impossible to capsize them because of their "leeward bouyancy pod".
It's easy to dock to load and unload passengers and cargo; when you put the big "leeward bouyancy pod" on the dock side, the passengers can just walk on and off; and cargo rolls on or off.
They have a good carrying capacity if you consider all their other benefits above. We're not going to be carrying iron ore or shipping containers with proas; they are more like the Pony Express of sailing vessels.
We incorporated Hawaiian Ocean Technologies, Inc., in May, 2019, as a State of Hawaii C corporation, to build these sailing inter-island passenger and cargo haulers.
Friends have purchased a small amount of HOTI stock, and that funding has taken us through our initial development, which produced the 24-foot Coconut and the 18-foot Hurricane Hunter prototypes. We will sell additional equity in the company to the right investor.
Want to invest and help us build this future? Email me (Tim) at skipper at oceanpeople dot org.
Our YouTube video channel has over 80 videos of us building and sailing these boats.
With Warm Aloha, the Ocean People family:

Tim, Susanne, Jack (22), Lucky (20), Victor (27), and Rose (18)