Tropic Bird, 56-foot Sailing Fishing Trimaran
Tropic Bird was a natural outgrowth of Tim Mann's experience while learning tropical commercial fishing in the Marquesas Islands from his friend Chuck Raymond, and coming up against the limitations of a boat that had no fish holds, no access to ice, and no refrigeration.
Tim began using his 37-foot sailing cutter Spice to catch fish with in the Marquesas; she was fast and could easily catch yellowfin tuna, mahi-mahi, and ono while trolling under sail. But there were problems with that concept:
When putting fish right on deck is your only option (because you have a sailboat that has no fish hold, no ice, and no refrigeration), you are forced to fish within an hour's travel of your market. This hugely limits where you can fish, how much fish you can catch before you have to skedaddle back to shore, and your possible income from fishing.
In other words, it's a lot of work for not much pay. And oh man! Cleaning up the boat afterwards?
(Below) There's gotta be a better way!
Tim loved the idea of providing fresh ocean fish for people as a way of earning a living; it was a good, healthy life on the sea. But without the right boat it was extremely difficult. So Tim devoted the next two years to designing and building a boat that was perfect for the job.
There was another reason Tim thought a sailing fishing boat was a good idea: before coming to the Marquesas, he had recently experienced the results of the 1973-74 Arab oil embargo in California, with gas prices that doubled overnight, long lines at the pumps, and "sorry, you can only have 4 gallons" when you got to the head of the line.
That is, if they didn't run out of gas while you were stuck in the middle of the line! Tim thought a fishing boat that could "live off the wind", and didn't depend on fuel availability or low prices was a good idea, if the future was going to include more lines at gas pumps.
What resulted was Tropic Bird: a 56-foot long, 34-foot wide trimaran with a 6-ton refrigerated fish hold, bait wells, a hydraulic long-line reel, hydraulic line pullers, and a 1-ton hydraulic crane for getting fish aboard that were heavier than the crew could handle.
(Below) The 56-foot sailing fishing boat Tropic Bird, at the dock in Kawaihae, Hawaii, soon after launching in 1978. She was so new, she didn't even have sails yet! (this is also known as "building on a budget"). Sailing fish boats were profitable then, and even more so now.
(Below) Tim's 56-foot sailing fishing boat Tropic Bird, trolling on the way to the fishing grounds off the Hilo Coast of the Big Island in 1984.
Tim thought the world would beat a path to his door to take advantage of this sailing fishing boat design; and he would be doing additional design work and boat construction. He actually thought at one point that he might need to find a skipper to fish Tropic Bird while he ran the boat design office and boat building operation. But the Arab oil embargo ended, the lines at the pumps disappeared, and everyone went back to gassing up their motorized fishing boats. That didn't affect Tim; he made a good living fishing Tropic Bird.
(Below) Another shot of Tropic Bird romping in the Alenuihaha Channel (one of the roughest stretches of water in the world), headed Somewhere To Go Fishing in 1984. I know; it looks like the photo was taken in the 1890's; but that's what life on a boat does to your photo collection!
Depending on the season and ocean conditions, Tropic Bird trapped deepwater shrimp off Kawaihae, fished "drop stone" and ika-shiibi for yellowfin and bigeye tuna off the Kona and Hilo Coasts, fished longline all around the Big Island (what we call "flagline" in Hawaii because the floaters usually have flags on bamboo sticks to help the fisherman find his gear more easily); and of course, trolled under sail anytime she was on the way to or from the fishing grounds.
Tropic Bird has caught fish ranging from a 272-pound yellowfin that Tim nicknamed "Charlie the Tuna" (and his 268-pound cousin Fred, who was two hooks over on the flagline), to shortbill spearfish, striped marlin, black marlin, mahi-mahi, a 92-pound ono once, aku, akule, opelu, kawakawa, and the occasional swordfish. While fishing in the Marshall Islands in 1986 (in addition to all the species previously mentioned), we caught a dogtooth tuna, one of the ugliest fish I've ever seen.
Below) This is a BIG dogtooth tuna at 200 pounds plus; the one we caught was a baby at only 90 pounds.
(Below) Tim and Tropic Bird pioneered the deepwater shrimp trapping fishery off the Big Island's Kona Coast in the 1980's, catching 120 to 150 pounds a day of heterocarpus laevigatus and heterocarpus ensifer shrimp in waters as deep as 2,400 feet. Totally sweet and ONO when eaten raw as sashimi, we only ate the tails until a big Hawaiian woman who bought shrimp from us out of the back of our truck told us one day: "What! You no eat da head too? It's ono if you fry 'um in garlic buttah!". So she taught us how to eat shrimp heads too (hint: you don't chew them up, you "vacuum them out").
There were times and places just sailing around with trolling lures out was the easiest way to catch the most fish. And it sure was comfy, just watching the fishing lines, Tropic Bird's wake, and the clouds; and not having to listen to the pounding of an engine or breathe the diesel exhaust. Every once in a while there was a "Sproinggggg-Snap" as one of the trolling lines broke its rubber band, and we had a fish on; then everything went into high gear until we had the fish aboard.
Here's Tropic Bird trolling under sail in the Trades: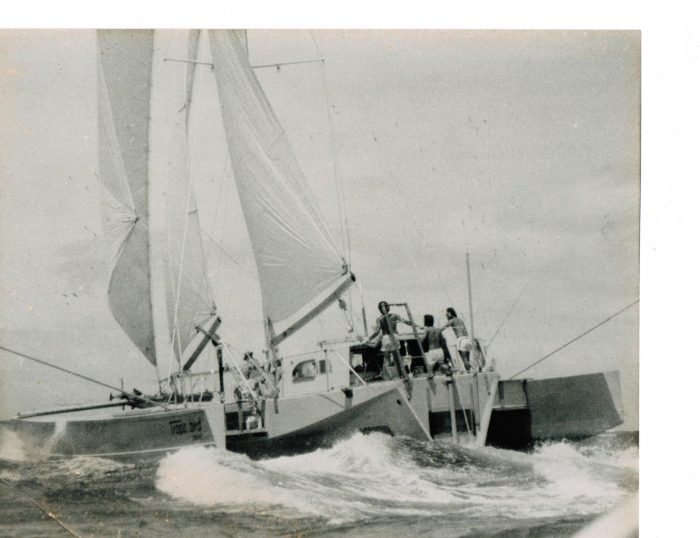 In addition to fishing, Tropic Bird served as a light cargo and passenger ferry in the Marshall Islands for about a year from 1985 to 1986. We've unfortunately lost those photos to time and travail, but if you can imagine her looking like this (and this is only a 40-footer), you can imagine how many people I could fit onto Tropic Bird!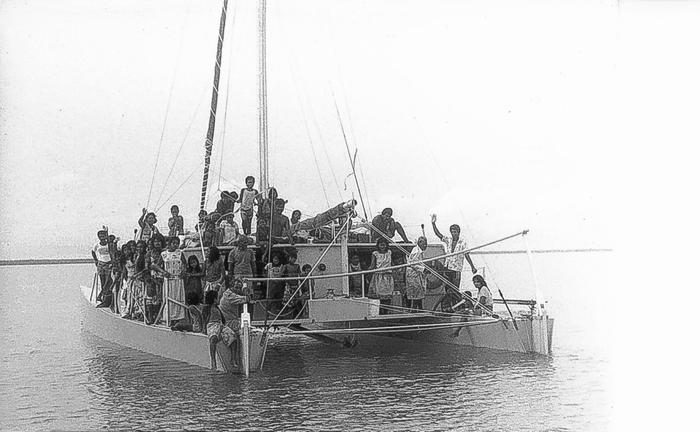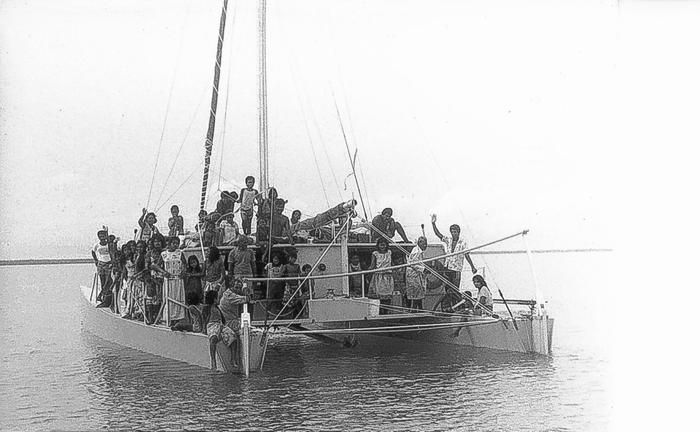 Tropic Bird's construction method was durable, too: when Tim came to shore to have a family in 1995, he sold her. She was in active service in Hawaii until a hurricane hit Kauai in 2012 (where she was moored). Her owner reported her adrift off the mooring in the storm, and the Kauai Coast Guard confirmed that they saw her floating upside down out at sea. Launched in 1978, that is 34 years of service from a boat that was built from common, affordable epoxy, fiberglass, and marine plywood. Whatever happened to her, she's gone now.