Why am I doing this?
I'm a fisherman, marine architect, and boat builder. I designed and built the 56-foot sailing fishing boat Tropic Bird in 1976 as a response to the Arab oil embargo and price increases of the '70's; my goal was to have a boat that could catch fish and earn a living for me without using fuel or polluting.
(Below) This is Tropic Bird trolling in the trades in Hawaii.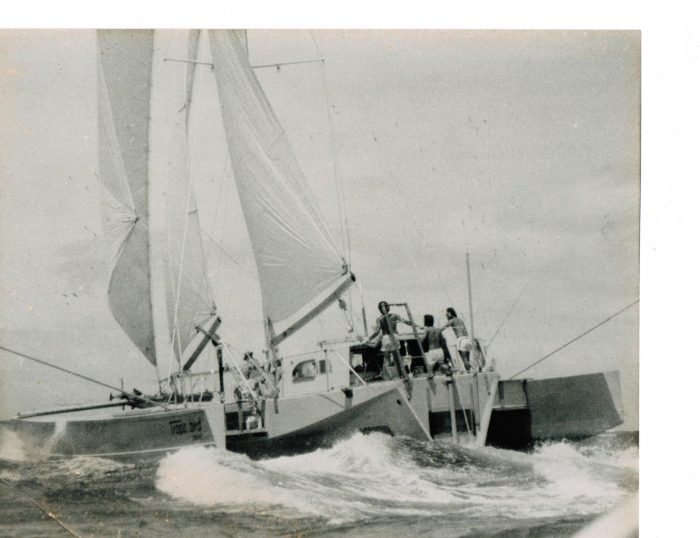 A happy by-product of a fishing boat that doesn't need to spend half its gross income on fuel is that it only has to catch half the amount of fish to make the same net income. The world hadn't even heard about CO2 emissions, climate change, and carbon neutrality then. But we all knew about pollution, and I was tired of breathing diesel exhaust when I was around boats.
Back in the day, I was a young boat-builder and idealist hanging out with people from Save The Children Foundation, the UN Food And Agriculture Organization, and a rep from the World Bank one day discussing this and a boat they wanted to hire me to build. A Japanese man who was with us, Mr. Fujii Morimoto, said: "World needs one million sailing fishing boats right now!".
Morimoto-San went on to explain that if you replaced all the factory ships with hundreds of small artisanal fishing boats, you'd eliminate the incredible amount of "bycatch" those big ships produce, and solve the problem. "What problem?", I thought. I said: "Morimoto-San, please explain".
He said that the thousands of small boats could catch half the amount of fish and have the same economic benefit for the village, the prefecture, and the country. This is because the small boats use methods that don't produce by-catch, which is thrown away and is a complete waste. So you wouldn't be wasting ocean resources. And the small boats are sailed and rowed, with a small amount of engine use.
This means the "up to 55% of gross revenue" the big ships spend on fuel would not have to be subtracted from the catch, and this means you could catch half as much and make the same net income. You'd get automatic conservation of ocean resources while also preserving the way of life of the small fishing villages and prefectures in Japan. 
It sounded good; Mr. Morimoto convinced me, and I devoted the next five years of my life to this concept. I designed, built, then operated the 56-foot sailing fishing boat Tropic Bird for the next 17 years. I started this "community" by myself in Hawaii 44 years ago in 1978 when I launched that boat. I had no idea what would happen over the next two decades; but the world yawned.
The embargo was over, gas was cheap again. No one wanted a set of plans for a fishing sailboat (sailing fishboat?); no one wanted one built. I fished the boat, made a good profit, had fun, and went on with my life.
Now that things are a little different than 1976, my family and I thnk the time has come for ocean transportation that doesn't create CO2 emissions, is clean, and even has ways to sequester or recover carbon from the ocean (you'll have to sign the NDA to hear about those). That's why our family business is building craft from our ARC, an 18-foot robotic research sailboat, on up to 180-foot long sailing passenger and cargo ships.
(Below) The prototype for our ARC being sailed in Kawaihae Harbor on the Big Island by two family members.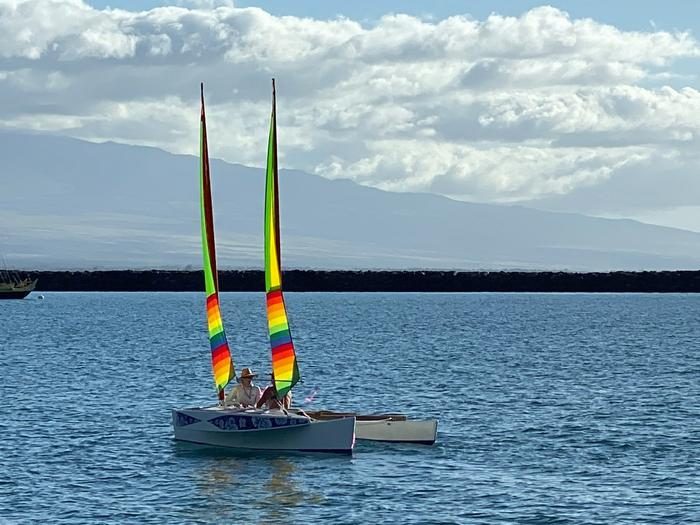 To see ALL the videos of all the proas we've built, both under construction and sailing, click here to go to our YouTube channel.