Why A Proa?

If you make a list of things you want in a boat that your life depends on, it might look like this: comfortable motion in a seaway, lots of deck space, good interior cabin space, unsinkable, resistant to capsize or pitchpoling, fast, ability to go to windward, and easy to handle with a small crew.
That description fits the Oceanic Proa to a "T". What's an oceanic proa?
It's basically an outrigger canoe with an outrigger that is always carried on the windward side of the boat, and sometimes with ballast in the outrigger. It's similar to the canoe in the following photo. These boats are also the reason why there are now Cook Islanders, Tahitians, Marquesans, Hawaiians, Samoans, Fijians, Tongans, Micronesians, and Maoris. Their ancestors started a huge diaspora in what is now Indonesia about 4,000 years ago, in Stone-Age canoes just like this one, and populated the entire Pacific Basin.

Ours are different in construction from the one in the following photo, being made from all-modern materials, but they are true to the original concept of a lot of boat for a minimum of materials and labor.
Question: There are obvious advantages to multihulls: speed, unsinkability, lots of deck space, seaworthiness, and more. But why use a proa instead of a catamaran or trimaran? Without getting too deep into it, catamarans work best for day race boats, and for day charter boats in protected waters such as the Caribbean. Trimarans, well, I had several over the span of 40 years, and now I'm sold on proas.

Here's the main reason we're not doing catamarans:
And here's the main reason we're not doing trimarans: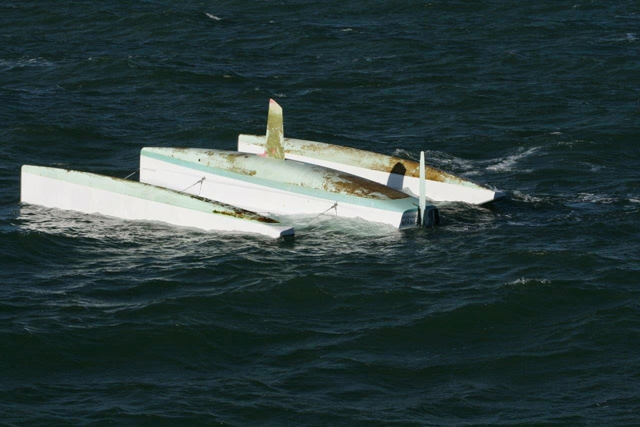 And here's the main reason we're not doing proas with NO leeward bouyancy pods.  See here for what proas with leeward bouyancy pods do (and it's NOT capsize in mild sea conditions!).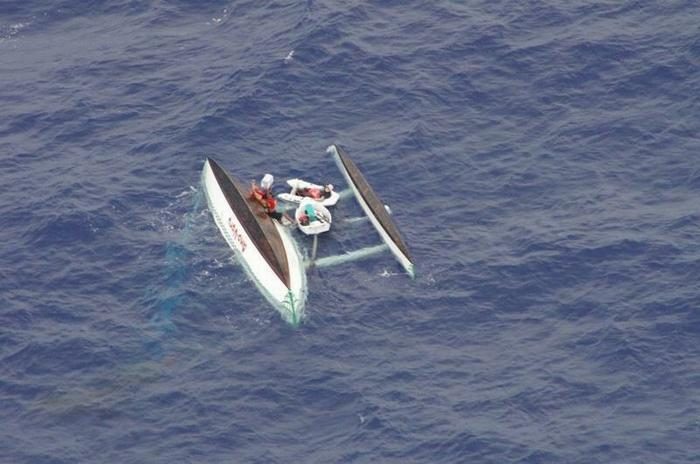 My mental move to proas started a long time ago, in the Marshall Islands: I'd been corresponding with one of my best friends: Jim Brown, the father of the modern SeaRunner series of DIY cruising and racing trimarans, about the Constant Camber catamarans he designed, while I was running my boat building operation in the Marshall Islands. As a result, one of my clients ordered a 45-foot CC catamaran, and specified that I get the 3/4-inch thick CC panels for the boat from a guy in the Phillipines (that's a whole 'nother story).
When I ordered those panels, I also spent about $3,000 of my own money purchasing and shipping enough additional 1/2″ thick CC panels for a 40-foot intra-lagoon passenger proa I was going to build on spec; because I was excited about proas. I was excited about proas because of a story Jim had told me in one of his letters.
(Below) I thought I'd never be able to capsize a boat this wide, this heavy, and this solid. Tropic Bird was 34 feet wide, weighed 24,000 pounds, had an outrigger with 33,000 pounds of bouyancy, and over 450,000 foot-pounds of "righting moment" (that means "resistance to capsize" for you non-boat-designers). But  I almost did, and in flat water too!
My interest in proas was stimulated after I got a letter from Jim in the Marshalls around '86 or so, telling me about his son Russell Brown's knockdowns and recovery in a 36-foot proa off Martha's Vineyard in a 50-knot snow squall, late in the season while heading south.
Russell Brown's Non-Capsize:
Because of Jim's excellently written explanation of what happened to Russell and his proa, I could see it in my head, as clear as a bell: Even though Russell is sailing her conservatively, the boat, with the crew below, gets a monster gust and just the wrong wave combination at the same time, and heels up onto the pod, with the outrigger and most of the main hull completely out of the water.
Now at maybe a 45-degree angle to the sea surface, she spills wind and shimmies in the big swell. The water ballast in the outrigger demands to go down according to the law of gravity, so the outrigger goes down. The boat's flat again; as flat as it gets in 50-knot snow squalls, anyway. Everyone's still on the boat: shook up, probably wet, cold, and scared out of their skulls, but right-side up! (with apologies to Russell for "interpreting" a story I heard second-hand, that is really his).
Something happened in my head when I read Jim's words; I don't know if I can explain, but in that moment, I realized that proas represented the safest possible sailboat to go to sea in for my family (yeah, plus being fast, unsinkable, upright, lots of deck space for parties, and all the other nice multihull stuff too). I knew somehow that I'd never build another trimaran for myself again. Pretty radical concept for a guy who'd done thousands of sea miles on three awesome tris: first a SeaRunner 25, then a SeaRunner 37 I had for six years, and now my 56-footer Tropic Bird.
I used to think I had the safest possible multihull in my 56-foot Tropic Bird. She was a sailing ten-ton dump truck; weighing around 12 tons fully loaded with all fishing gear, ground tackle, ice, bait, and food for a fishing trip, etc. She had a 6-ton refrigerated fish hold when launched, and I'd had up to 8 tons of cargo on her during open ocean voyages. She behaved just fine loaded like that; she just got a little slower. But that's "a little slower" on a boat that would easily do ten knots to weather under self-steering in a 15-knot wind; in other words, she still performed great.
At 34 feet wide, with a float that had 33,000 pounds of bouyancy, Tropic Bird had over 450,000 foot-pounds of righting moment if you put the float deck flush with the water. She had an incredibly thick and heavy mast: 65 feet, 13-1/2″ by 8-1/2″ section with a full quarter-inch wall thickness; and 3/8″ and 1/2″ 1X19 316 stainless rigging with 1″ galvanized turnbuckles. I thought that was enough to make her safe and un-capsizeable. But I almost flipped her once, and it scared the crap out of me.
(Below) My ten-ton dump truck on a sailing fun day with some friends.
How I Almost Capsized Tropic Bird:
I was about a quarter mile off the beach in gusty offshore winds near a place called Mahukona on the west side of the Big Island, beating upwind, heading out into the Alenuihaha Channel for the fishing grounds on the east side of the island. I was hugging the coast in relatively flat water, to get as far to windward as possible before I got out into the 18-20 knot winds and 12-15 foot seas the Coast Guard was predicting in the Channel itself.
The 20 to 25 knot gusts of wind that were coming off the land were throwing up dust clouds which made it difficult to see what was happening. Although I saw the gust that nearly flipped Tropic Bird, I didn't realize how forceful it was until I noticed the tree branches the size of a man's leg that were whirling up into the air along with the dirt and rocks the gust had picked up.
This was not business as usual; I had just started to reach for the yankee sheet when the gust hit the boat. The windward float was going up as I jerked the yankee sheet out of the clamcleat and freed it to run.
I thought that would be enough, and we would settle back down and watch the yankee flog while we waited out the gust. But that didn't happen; we kept going up. I had spun the wheel hard over to turn us upwind just before I freed the yankee sheet; and Tropic Bird had started to respond.
But instead of turning rapidly upwind and dumping the gust the way she usually did, she just kept going up. I didn't realize at the time, but the reason she acted differently was that the rudder had already left the water; and was no longer exerting any turning force on the boat.
I had no idea what was happening, but didn't waste time; next, I popped the staysail sheet loose and let it run free, and then popped the mainsail sheet loose and held it for about a half second. the idea was, the wind force on the main would head her up, thus reducing the wind force on the main.
But it didn't happen, so, as she kept going up, I let the mainsail sheet run free also. Having let everything run free, with no more sheets to loose, and with the boat at an extreme angle of heel, I slipped sideways into a cockpit seat on the nonskid, then stood up on the fat edge of the seat, and hung onto the rear lip of the pilothouse with both hands.
While hanging onto the pilothouse, I looked overboard and noticed that the rudder and the main hull were entirely out of the water, and the boat was at a 35-degree angle of heel. In the next three or four seconds, she went up another ten degrees or so with all the sails completely loose and flogging madly, and stopped at 45 degrees, with the windward float keel 15 feet out of the water, and the bottom of the main hull 6 feet out of the water, for an excruciatingly long time that seemed like hours.
And then she slowly settled back down as the gust passed. It took a couple of seconds, then the whole boat hit the water with a resounding "whump!". And there we were: sitting dead in the water with the sails lightly flogging in 15-20 knots of wind. I was shaking, of course; and my crew, who had been below this whole time, came up the companionway white-eyed and mouthing obscenities. He'd been whipping up a couple of sandwiches for us down below; and lunch, cutting board, knife, and sandwich makings had gotten scattered all over the galley by the event.
I slowly sheeted everything back in and we headed out into the Alenuihaha Channel. There were no sneaking dishonest gusts coming off the land to bushwhack us out there, just honest wind and seas that you could safely gauge. We poked our nose out into the channel, relaxed a bit, then strapped the sails down, lashed the wheel, and started doing the "normal" 10 knots to windward my sailing dump truck was capable of. We got to the fishing grounds, fished, slept, and did the normal stuff fish boat crews do.
During the trip I thought a lot about what if I'd been downstairs making lunch and my crew had been steering, instead of me, with my 20 years of sailing reflexes; about what could have happened if I hadn't reacted as fast, or if a sheet had gotten stuck in a clamcleat. I realized we'd gotten a 50-knot plus gust in the middle of "normal" 20-25 knot gusts; a condition I'd never run into before. Believe me, it was some worrisome thinking.
I was changed. I hadn't gotten my idea of "no more tris" yet, but I knew I had a problem with the boat that I'd been sure was too big and solid to have those kinds of problems.
Thanks for listening! With Warm Aloha From Hawaii, Tim Mann…….