Sustainable, Eco-Friendly, Carbon-Negative Construction Methods
Taumako Island's 38-foot Lata  and our new 90-foot Serenity are sailing cargo and passenger-carrying boats that are 90% wood.  This type of wood boat is as durable and long-lived as a fiberglass boat, because it is covered with a thin skin of fiberglass and epoxy resin.
This combination of materials waterproofs a wooden boat, makes it puncture-and-abrasion resistant and incredibly strong, but only uses about 10% of the resin and fiberglass of an all-fiberglass boat. The best thing about a wooden boat covered with epoxy and fiberglass? It still floats, even if it gets a hole in it!
The non-renewable resin used to build all-fiberglass boats is refined from oil or coal, and makes up 50% or more of the weight of the boat, while the rest of the boat is in fiberglass fabric that is "wet out" with the resin. A 35,000 pound fiberglass boat hull is 18,000 pounds of resin and 17,000 pounds of fiberglass. Our little boatshop joke is: "fiberglass doesn't grow on trees, but wood does!"
In fact, our 90-foot-long Serenity, which weighs 35,000 pounds, only has 3,500 lbs of epoxy glue, resin, and fiberglass in her entire structure. Not only does this completely sustainable technology use wood, it can utilize cheap, low-quality wood and still be incredibly strong (we'll explain in a bit). The result is a vessel that is beautiful, strong, durable, unsinkable, safe, and comfortable at sea.
(Below) We  feel wooden boats are a LOT prettier than their plastic and fiberglass cousins! This boat is ALL wood, even though it looks like a fiberglass boat because it's covered with fiberglass and epoxy. It has all the advantages of wood, AND all the advantages of fiberglass, while only using a small amount of epoxy/fiberglass.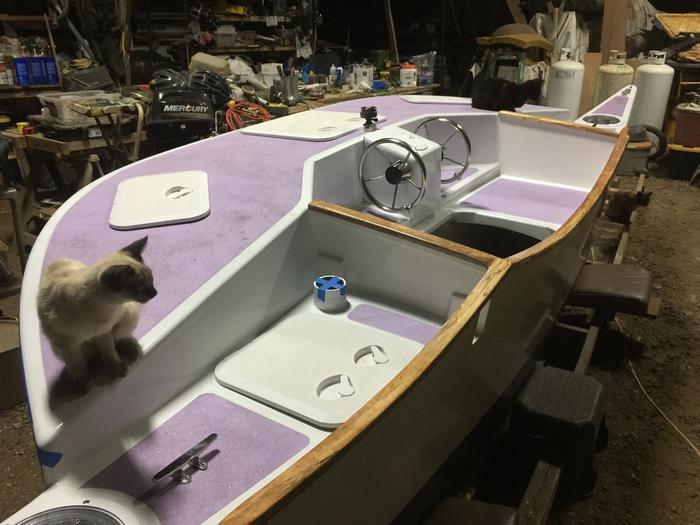 "Completely Sustainable" is a big claim. Can we support that? Well, the boat building technology we're referring to employs wood, plywood (both manufactured in a factory and custom-made in our boatshop using Jim Brown's Constant Camber Technology), epoxy resin, and fiberglass. Let's examine those building materials one by one to see just how sustainable they actually are:
Wood: completely sustainable and carbon-negative because it comes in the form of trees, which sequester carbon dioxide out of the atmosphere, and you can grow more anytime you need some!
Plywood: if manufactured in a modern factory with adequate environmental controls, this material also shares the qualities of plain wood because it's made from trees, which sequester carbon dioxide out of the atmosphere.
(Below) The sustainable grown-in-a-forest wooden frame of a 38-foot long multihull hull; ready to be covered with sustainable plywood sheathing. Lucky is lucky, AND a good boatbuilder.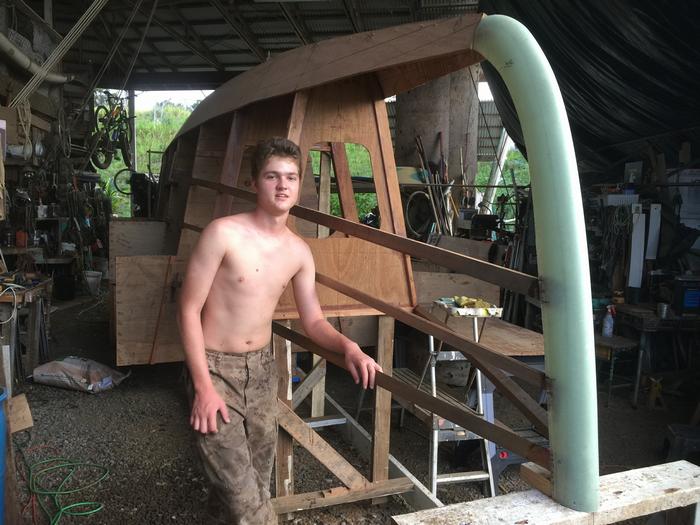 Epoxy Resin: although epoxy resin is usually made from petrochemicals and/or coal in our current system, researchers we know have made high-quality epoxy resins out of sugar cane and tree sap. Sustainable epoxy made from those raw materials is not going to be a market standard until we, the consumers, demand it; because it's too easy right now to make epoxy the old way. Epoxy made from sugar cane or trees is completely sustainable and carbon-negative because they're living plants, both of which sequester carbon dioxide out of the atmosphere. You can grow more anytime you need some epoxy!
(Below) The outside of the hull and structure is entirely covered with fiberglass cloth and epoxy resin, which makes it waterproof, and as impervious to the elements as a boat made entirely of fiberglass and resin. But it only uses 5% of the fiberglass and resin a solid fiberglass boat does; the structural strength of the boat is in its sustainable wooden structure. This 'glass job hasn't been painted yet, and you can't see the fiberglass because it disappears when you "wet it out" with the epoxy resin.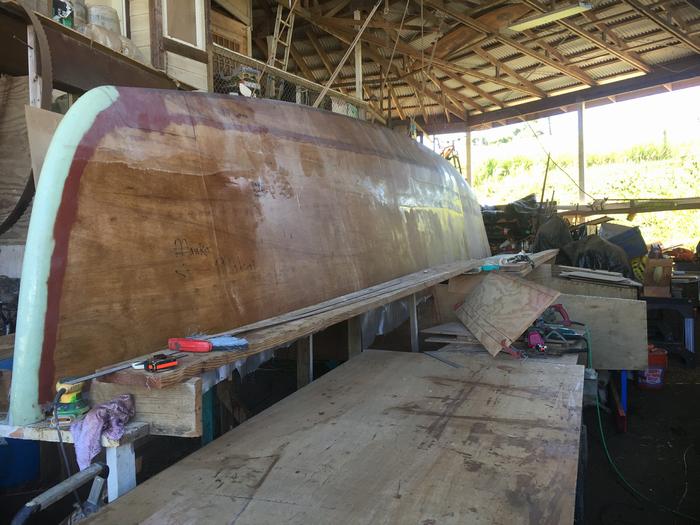 Fiberglass: first, you need to know that fiberglass is made of exactly the same material as window glass, just spun very thin into threads, then woven into fiberglass cloth. Brittle and breakable when it's a window; it becomes incredibly flexible, light, and strong when it's made into fiberglass cloth. And just like window glass, fiberglass is a sustainable material because it's made from silica beach sand! And we're not about to run out of that stuff!
Here's how this boatbuilding technology works: when you glue two pieces of wood together with epoxy glue, the glue bond is stronger than the wood itself! It's just like welding two pieces of steel together, and building a wooden boat using these techniques is similar to building a steel boat by welding a number of small pieces of steel together. Only you're "welding" small pieces of wood together.
The end result is as strong as if you had carved it out of a solid piece of wood, except the grain in the wood (and the strength in the wood) is going in exactly the direction you need it to go for maximum strength in the finished boat. And you never need to use a bigger piece of wood than necessary for any part of the boat; this means you end up with a boat that's never any heavier than it needs to be for maximum strength.
When the boat is all glued-together, you sand the outside and put a relatively thin layer of epoxy and fiberglass cloth on it to waterproof the wood and give it puncture resistance. Then you paint the fiberglassed surface (to protect it from UV rays, because the epoxy resin is not UV-resistant, and breaks down in sunlight), add your hardware and equipment by bolting it on, and head for the launch ramp.
That description of how to build one of these is a bit simplified; but we're always building one, so follow our website to get the day-to-day construction in excruciating detail!
(Below) Another boat we built, this one is a 40-foot catamaran "Lagoon Bus", with as many people INSIDE as you see OUTSIDE the cabin! Wood structure, plus epoxy/fiberglass waterproof covering, plus a good paint job, equals a boat that will last 40 to 50 years with care, just like a good fiberglass boat will.